Welcome to Mayberry Hill Preschool!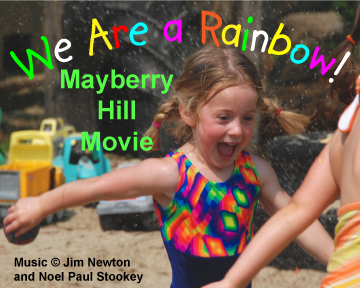 Maybe once in a lifetime you come across a place so remarkable that you can feel the love the minute you walk inside. A place where you know automatically that it is genuinely special. A place where the joy oozes out of the walls. A place made bubbly-exciting by the sounds of happy children. Mayberry Hill Preschool is just such a place.
We are maple syrup makers, bird house builders, painters, vegetable gardeners, flower pickers, waffle makers, artists, snow sculptors, Everest Accelerator sledders, cookie decorators, cowboys and cowgirls, weavers and spinners, dancers, potters, singers, explorers, egg finders, treasurer hunters, farmers, animal lovers, space ship flyers, butterfly lovers, hikers, kite flyers, fish releasers, egg gathers, discoverers, candle dippers, musicians and apple pickers.
We are friends. We are family. Come visit!
"Mayberry Hill Movie: "We are a Rainbow," Music ©Jim Newton and Noel Paul Stookey