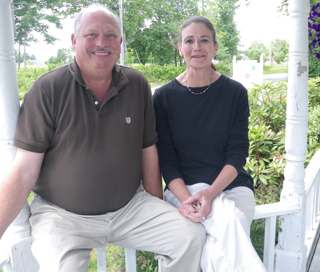 The people and facilities at Mayberry Hill
For over 30 years, Mayberry Hill Preschool has been caring for children ages 3-5, providing a wide variety of experiences that promote discovery and self expression, a spirit of community and the development of new skills and knowledge.
Mayberry Hill Preschool is located on Overlook Farm, a 100-year-old Inn and organic farm, on Heath Road in Casco, Maine. Our outdoor environment allows for fun-filled learning experiences that change with the seasons.
The school is open year-round from 7:30 AM to 5:30 PM Monday through Friday. Our well-educated and trained staff, who come to us from all over the US and live on the premises, help us care for and nurture Mayberry Hill Preschoolers as they grow, learn and play. We have room in our home and hearts for 35 children.
School Director Barbara Simpson speaks for the staff saying, "We love what we do. Working with young children keeps us as excited about life as the children are every minute, every day. These children give meaning to our lives. It is a huge responsibility to care for another's child. We feel lucky to have these experiences with our children everyday."
Barbara has a BS in Elementary Education from the University of New Hampshire and three decades of working with preschoolers and going to yearly training programs. She is the Director of the Program and her heart, unconditional love and holistic beliefs form the foundation for the school.
Barbara's husband, "Captain " Kelley Simpson, is responsible for the facility, the petting zoo and the adventures. "I adopt baby animals so we always have a farm filled with young animals for the children to care for. And I am always coming up with another new adventure for the kids. I build snow forts, jungle huts, golf driving range and fun safe playground equipment. I built the Everest Accelerator to give the kids a good start sliding down the hill. And I get out my guitar every once in a while to sing with the kids."
Indoors, Mayberry Hill has a full kitchen and 2 spacious classrooms with lots of extra nooks and crannies for creative endeavors. Outside we have an extensive playground, a hill for sliding, fields for picking flowers and vegetable and flower gardens. And we can't forget the rest of the Mayberry Hill family: Luna the miniature donkey, Nemo, Josie and Rosie the goats, Phyllis the chicken, among many other as yet unnamed chickens, and Colby the pot-bellied pig.